Businesses all over the world have already adopted the working-from-home culture. It not only aids in maximizing the budget but also boosts the productivity of the employees. By now, employees needed to create an ergonomic workstation that perfectly meets their requirements and fits the budget.
Imagine a workstation without a laptop No, right? To be honest, planning to buy a laptop is no smarter when you can rent one according to your preference. Let the hefty budget be spent on other productive works. Find out how to rent a laptop for work-from-home.
For a work-from-home office, these three things are a must:
A computer
Seamless internet connectivity
Electricity
Besides, you need additional equipment to facilitate communication and comfort.
Laptop: Laptop is recommended for its mobility, allowing employees to work anywhere in the world without being tired sitting on an office chair for long hours.
Keyboard: Especially Bluetooth and wireless keyboards are recommended to cut down the number of cables hanging in your home office. Nonetheless, the keyboard should be ergonomic providing full hands and wrists protection while typing. So a wireless mouse is recommended
Docking station or USB hub: Some laptops do not hold maximum ports in terms of making them as lightweight as possible. To connect multiple devices, you must manage an extra docking station to connect devices for different purposes such as driving for hard backup, plugging in monitors, etc.
Dedicated webcam: If you need to attend endless meetings regularly, you are advised to invest in an extra webcam. For jobs like sales, recruiting HR, or the C-suite, maintaining a dedicated webcam is a must when it solely depends on how you look on camera.
Make sure you use a virtual background or tidy up your background.
Headphones and headset: Depending on your requirement, you can opt for noise-canceling headphones especially. However, a headset is a standard option especially if you are in a sales role or need to attend virtual meetings regularly. You can choose both wired or wireless depending on your requirement.
Things to consider when selecting a laptop for working from home
Choosing a laptop to work from home, you should keep a few things in mind. Find out what those.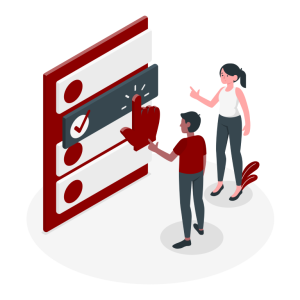 Color accurate display
It is one of the main elements of consideration especially if you are a graphics designer or content creator. To emphasize, you need to choose a good panel display for better image quality, sharpness, lifelike colors, and low response time. Some laptops even include TUV Rheinland Certification which protects your eyes from harmful blue light. WFH employees can also look into these high end configurations as well.
Long-lasting battery life
We bet, for you, battery life is a prime concern when you are accustomed to electricity outages, and zero nearby power outlets. With long-lasting battery life, you're worry-free from external factors that may disrupt your workflow. For WFH employees, 1.5-4 hours of battery backup is quite efficient. However, you need to consider laptops that offer fast-charge technology too.
Hassle-free performance
Meeting deadlines is always an issue for employees and nobody wants their laptops to come between as an obstacle. To keep sluggishness at bay, you need to examine it before buying. For that renting is a perfect option allowing you to gauge its pros and cons by yourself without investing too much.
A minimum of 8GB RAM with the technologically advanced processor (e.g 6th generation Intel Core processor onward) is ideal for smooth performance. It means you can maintain productivity throughout the day.
Web camera
Examine the in-built webcam beforehand. We bet— you need it for upcoming meetings.
Wireless connectivity
It is obvious that you should look for different wireless connectivity options such as Bluetooth or Wi-Fi. You are advised to look for a minimum of two wireless connectivity options in your laptops. Wi-Fi 4 and Bluetooth 3.0+ technology is amazing for higher speeds.
A keyboard that supports all your needs
It is quite a differentiating factor that sets aside a specific brand's laptop from others. All professionals out there choose laptops that maintain a sturdy, stylish keyboard for all their needs— making typing easy on the couch, half asleep in bed, or slouching on the sofa.
Why is laptop rental convenient for the remote workforce?
It is the main benefit of renting a laptop for a remote workforce, especially for SMEs. Businesses that are low on budget can rent laptops to best utilize their budget in other areas. To your surprise, some laptop renting services offer an advanced configurations with minimal fees
You can choose from a wide range of laptops. It means you can easily choose your ideal laptop without investing in multiple laptops.
As per specific requirements, you can upgrade to a new laptop anytime— no need to buy a new one. Just call the service provider.
Renting allows you to invest in the right size equipment enabling you to work efficiently. With reliable equipment, you're stress-free from any potential risk or downtime.
Keep updated on the latest technology
You have the added advantage of access to the latest technology that can boost productivity or keep you safer.
How to rent a laptop to work from home?
Find your preferred rental provider such as India Rentalz, one of the trustworthy Pan India rental companies well-known for quality equipment and customer support— served 3000+ clients to date.
Step 1: Go to www.indiarentalz.com
Step 2: Browse & Select
Choose the device matching your requirement. Select the duration and proceed.
Step 2: Add to Cart & Pay
Pay either the full amount or partially. You can pay the balance at the time of delivery.
Step 3: KYC Verification
At the end of the duration, opt-in to extend or return the device for reverse pickup.
You can call us for any assistance too!
(+91) 9738-030303
Follow Us On